BEST-IN-CLASS PERFORMANCE
Professional Cabinet Saw
PCS™
The Professional Cabinet Saw is SawStop's top selling cabinet saw, offering unmatched fit and finish and best-in class cutting...
Read more
The Professional Cabinet Saw is SawStop's top selling cabinet saw, offering unmatched fit and finish and best-in class cutting performance.
30-INCH T-GLIDE FENCE ASSEMBLY: The 30-inch T-Glide Fence & Rail are made of heavy-gauge steel for sure lockdown and reliably square cutting for years without deflection.
UNMATCHED QUALITY: The trunnion and arbor are built for precision, strength and stability. The gas piston elevation delivers smooth and easy adjustability. Table flatness is measured diagonally at 0. 010" maximum gap.
DUST COLLECTION: 99% dust collection is delivered above the table with the included dust collection blade guard, and below the table with advanced shrouding around the blade. Available Overarm Dust Collection (Model # TSA-ODC, sold separately) routes dust away from the blade and into the 4" port.
SAWSTOP PATENTED SAFETY SYSTEM: Stops a spinning blade on contact with skin. The blade stops in less than 5 milliseconds, and drops below the table, minimizing a potentially life-altering injury to a mere scratch.
RELIABILITY: The Control Box houses the on-off switch, power paddle, and on-board computer, and constantly checks that all systems are working to reliably keep you safe.
3HP MOTOR: The 3HP motor gives you the extra power you need to quickly rip most materials you come across
Starting at: $3,358
Select Your Power:
Select Your Fence/Rail/Table:
30" Premium

36" T-Glide

52" T-Glide
Build & Price
SawStop's commitment to quality, innovation, and safety over the past 20+ years has made us the best in the industry. Learn more about what makes a SawStop North America's #1 selling Cabinet Saw
Features
30" Premium Fence System provides smooth operation, precision measurement and sure lockdown without deflection.
Unmatched fit and finish with a keen attention to detail make the Professional Cabinet Saw SawStop's most popular saw.
SawStop Safety System stops on contact with skin.
ASSEMBLY: 3HP Professional Cabinet Saw with 30" Premium fence system, rails & extension table
Dimension: 61 3/4" w, 31 1/8" d, 34" h
Included Items
(2) Cast Iron Extension Wings
(1) Miter Gauge
(1) Micro Blade Guard (1.75HP Models)
(1) Dust Collection Blade Guard (3HP Models)
(1) Riving Knife
(2) Blade Wrenches
(1) Push Stick
(1) 10" Blade
(1) Standard Lockdown Insert
(1) Standard Brake Cartridge
(1) Owner's Manual
(2) Hardware Packs
(1) 3mm Hex Key
(1) 5mm Hex Key
(1) 8mm Hex Key
(1) Blade Spacing Adjustment Gauge
Specifications
30" Rip Capacity:PCS175 or PCS31230 -PFA30: 30" Premium Fence Assembly

Motor Option(s) (60Hz TEFC):1.75 or 3 HP available

Overall saw dimensions 30 in:61 3/4" W x 31 1/8" D x 34" H

Motor Configuration 2PCS31230: 3 HP, 1 phase, 230v, 13 A, Plug: NEMA 6-15P w/9' cord
Saw body footprint:19 3/8" W x 19 3/8" D (Cabinet)

Cast iron table:20" W x 27" D

Extension wings:12" W x 27" D each

Cast iron table (w/ extension wings):44" W x 27" D

Extension table 30 in:12" W x 27" D
Shipping weights - w/ 30 in fence systems:455 lbs / (2 Boxes)

Shipping dimensions (saw body only):42"W x 31"D x 30"H

Shipping weight (approx.):(table saw only) 400 lbs
Assembled weights - w/ 30 in fence systems:380 lbs

Weights - table saw only:335 lbs
Blade:40-tooth, prof. grade, 5/8" arbor

Blade diameter:10"

Blade tilt:Left

Blade kerf:0.118" (3mm)

Blade plate thickness:0.078" (2mm)

Max. depth of cut, blade at 0º:3 1/8"

Max. depth of cut, blade at 45º:2 1/4"
Max. rip, right of blade - 30 in:30" (w/ 30" rails)

Max. rip, left of blade:12"

Dado diameter:8" (requires dado brake cartridge & insert)

Dado max. width:29/32"
Arbor diameter at blade:5/8"

Main bearing size:62mm OD x 30mm ID

Second bearing size:52mm OD x 25mm ID

Table in front of blade (max. elevation):10 1/4"

Table behind blade (max. elevation):7 1/2"

Arbor Runout:0.001" Maximum allowable runout

Table flatness measured diagonally:0.010" Maximum gap

Blade alignment with miter slot:0.010" Maximum displacement

Deviation of miter gauge indexing stops from actual:±0.25º

Alignment between splitter and blade: 0.010" Maximum difference
Miter slots T-shaped:3/4" at top, 1" at bottom, 3/8" deep

Miter slots center:11 1/8" center-to-center

Miter slots info:5 1/2" (arbor flange to center of right slot)
Dust collection port diameter:4"

Riving knife / splitter thickness:0.090" (2.3 mm)

Dust collection blade guard (standard on 3 HP saws)polycarbonate, extends 1-3/16" right of blade

Blade guard:(dust collection) port diameter 1-1/2" Outside, 1-1/4" Inside

Insert:zero clearance, phenolic core, melamine surfaces

Hand wheels:7" diameter, cast iron w/ chrome handle

Belts:2 V-ribbed belts - arbor b. static dissipative
Universal Performance
Professional Cabinet SawTM
Thousands of Fingers Saved
Explore the stories of individuals who suffered tragic incidents before buying a SawStop.
New SawStop Prevents Serious Injury 
John M
(woodworker)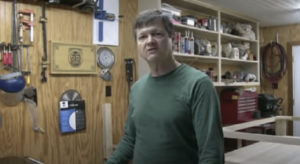 Hobbyist Thanks SawStop for Saving his Finger
Jim M.
(hobbyist)
"The blade stopped immediately."
Anonymous Worker
(woodworker)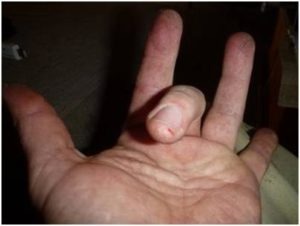 "The finest saw I had owned."
Mick D.
(home-builder)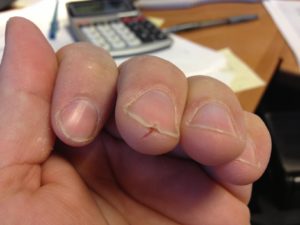 "The best purchase I have ever made."
Mark
(diyer)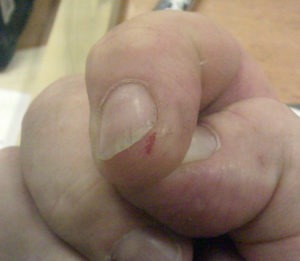 "It can happen to anyone."
Doug J.
(cabinet-maker)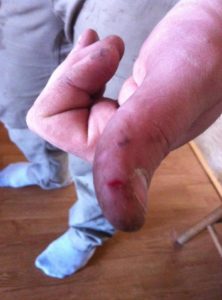 "SawStop saved my finger."
Chris A.
(home-builder)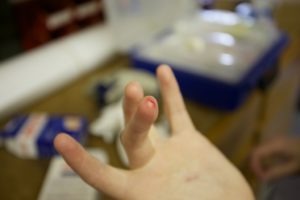 "The blade did exactly what you designed it to do."
Brian G
(diyer)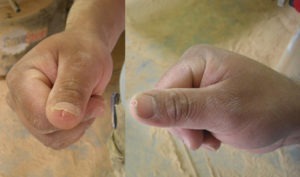 "Just a small nick on his thumb."
Shop Worker
(cabinet-maker)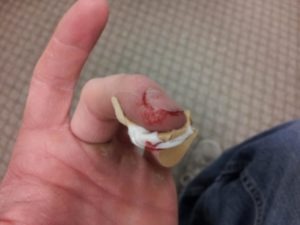 "I only had to put on a band-aid."
Brad W.
(hobbyist)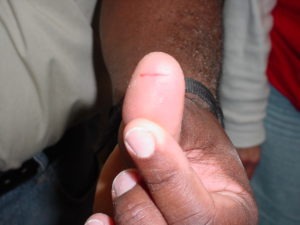 "I didn't even know."
Carl S.
(cabinet-maker)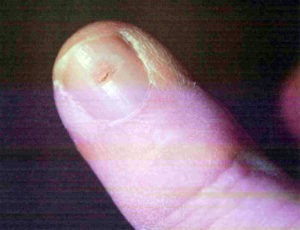 "This technology is revolutionary."
Pete S.
(woodworker)
What Are People Saying?
"SawStop thought of everything."
Trent T.
Maryland
"I bought the SawStop for its safety features."
George A.
Georgia
"I'm a happy camper."
Robert P.
Georgia
"It's a great saw."
Coy F.
Washington
"These saws are the finest operating saws I have used and seen."
James K.
Canada
"An incredibly well made machine."
Robert S.
Alabama
"The saw is well made and functions flawlessly."
Brett A.
Wyoming
"Your company makes beautiful machines."
Paul M.
Minnesota
"This saw screams quality."
Per S.
New Jersey
"Thank you very much for a phenomenal machine."
Robert S.
Alabama
SawStop Owner Testimonials 2
SawStop Owner Testimonials
Why SawStop: From Saw Owners
Why SawStop: From the Experts
Frequently Asked Questions
What kind of 10" blades can I use for the cast iron saws?
Any 10" standard-tooth steel blade with steel or carbide teeth can be used. Do not use blades with tooth "shoulders" (often called depth-limiting or anti-kickback shoulders), as these blades will take longer to stop in the event of an accident. Do not use blades with non-conductive hubs or teeth, as the safety system will not allow the saw to operate with these blades installed.
Can I use an 8" Dado stack?
Any 8" standard-tooth steel stacked dado set (max width: 29/32") with steel or carbide teeth can be used. A zero-clearance insert for your dado set must be purchased along with the required Dado Cartridge.
Can I use thin and thick kerf 10" blades with a SawStop saw?
The SawStop safety system is designed for use with standard 10" blades with kerfs from 3/32" to 3/16". Blades with kerfs much thinner than 3/32" should not be used because those blades might not be strong enough to withstand the force applied by the brake when it activates. As a result, those blades might deform and stop more slowly in the event of an accident, resulting in a more serious injury.
Do any of your saws have scoring blades?
We do not have a scoring blade on any of our saws. Scoring blades cannot be used with our saws due to the stopping technology.
Can I use a sanding disc on your saws?
We do not recommend installing any kind of sanding disc or cutoff disc on a SawStop table saw.
What if my blades are not precisely 10" (or 8" dado stack)?
The vast majority of commercially-available blades are accurate to their advertised diameter, and work well in SawStop saws. If your blade is larger or smaller than the advertised size, SawStop cast-iron saws allow for some adjustability of the blade/brake gap to accommodate. Jobsite Saw blade/brake gap is not adjustable, so users should not operate blades more than 1/16th inch diameter over the specified blade size. Never use a blade that does not "clear" the aluminum brake pawl.
What about coated blades or coated teeth?
Steel blades and dado sets with a lacquer finish or other coating on the teeth should not be used as the coating may inhibit or slow the speed at which the safety system detects skin contact. However, most coated blades do not cover the blade teeth. Those blades may be used on SawStop saws.
Do you sell direct?
We sell only through authorized SawStop dealers. You can find a list of dealers on our site at http://www.sawstop.com/store-locator/. Please include your zip code in the "where are you?" field and be sure to select the correct model you are interested in viewing. We also have a great build and price feature on our site that walks you through any saw configuration with accessory options, www.sawstop.com/build.
How can I be certain the safety system is working?
The SawStop safety system continuously performs many self-checks to ensure the components of the safety system are working properly. The safety system will not allow the motor to start (or to remain running) unless every component of the safety system is working properly.
Can I get a serious injury using a SawStop saw?
In the vast majority of cases, coming in contact with the spinning blade will result in a minor cut. However, if your hand moves into the blade at very high speed, it is possible for you to receive a serious injury.
What happens if the blade comes in contact with a nail or staple in the wood?
Generally, the safety system will not activate when a nail or staple is cut. Although conductive, these objects are not large enough to cause the safety system to activate unless they are grounded to the table or operator when they contact the blade.
Can I use Gloves while operating a SawStop?
The SawStop safety system will protect you even if you are wearing gloves. In that case, the system will trigger when the blade cuts through the glove and touches your skin. It is possible that the blade could snag on the glove and pull your hand into the blade, resulting in a slightly deeper cut. That is why SawStop recommends not wearing gloves when using a SawStop saw. However, if you decide to wear gloves, you are still protected.
What is the activation cost?
If you activate the safety system's brake, you will need to replace the brake cartridge and evaluate the condition of the blade for future use. Replacing the brake cartridge is simple and can take as little as 90 seconds to complete. A standard brake cartridge costs $95 USD and a dado brake cartridge $115 USD. SawStop saws are designed to absorb the force of activation and are not damaged by it.
Can you reuse the blade after activation?
When the safety system activates, it will sometimes damage one to more teeth on the blade. Some users discard and replace the blade, while others choose to have their blades inspected/repaired by a qualified specialist.
Am I protected during coast down?
Yes, if you are using the red paddle to turn the blade on/off, the brake is still actively monitoring the coast down rotation. The yellow power switch is what powers the cartridge to begin monitoring the blade, so as long as that remains on, the cartridge will activate during coast down.
What is Bypass Mode?
Bypass Mode deactivates the safety system's braking feature, allowing you to cut aluminum, very wet/green wood and other known conductive materials. If you are unsure if material you need to cut is conductive, you can make test cuts using Bypass Mode to determine if it will activate the safety system's brake.
Will moisture activate the brake?
SawStop saws cut most wet wood without a problem. However, if the wood is very green or wet (for example, wet enough to spray a mist when cutting), or if the wood is both wet and pressure treated, then the wood may be sufficiently conductive to activate the brake. If you are unsure if the material you need to cut is conductive, you can make test cuts using Bypass Mode to determine if it will activate the safety system's brake. The red light on the control box will flash to indicate conductivity.
Does cold affect SawStop saws?
Cold ambient temperatures should not affect your saw mechanics. However, your saw's brake cartridge contains "computer-like" parts that can be affected by extreme cold. If the cartridge is stored in temperatures well below freezing, the saw won't turn on until the cartridge warms up. If you are in an extremely cold climate, we recommend removing the cartridge (which you can do with the blade in place) and storing it above freezing. Alternatively, some customers choose to leave the yellow "hard" power switch on all the time. This provides just enough heat to the cartridge to help ensure startup in spite of extreme ambient cold.
Do the saws come equipped with a magnetic switch?
Our saws have a magnetic switch that prevents it from coming back on.
What kind of dust collection system do I need for your Cast Iron saws?
We recommend a minimum of 350 CFM (PCS/CNS) or 400 CFM (ICS) to the 4" port. Even the largest wet/dry vacuums or portable dust extractors will not supply the CFM needed for proper dust extraction from our cast iron table saws, so we recommend one of the many types of stationary solutions. To get a better understanding of comparing wet/dry vacuums to a stationary collector, visit http://woodworking.stackexchange.com/questions/768/what-advantages-does-a-dust-collector-have-over-a-shop-vac.
Does my aftermarket accessory/saw work with SawStop saws/products?
There are many different saws and other product choices on the market, each with its own installation and/or modification requirements. SawStop doesn't test on the many other-brand aftermarket items, and therefore don't have the necessary information to recommend your best result. The manufacturer of the product you are interested in is likely the best place to start, as they may have a better idea of necessary modifications, if any are needed.