THE SAFEST PORTABLE TABLE SAW FOR THE JOB SITE
Compact Table Saw
CTS™
The SawStop® Compact Table Saw is the smallest, most portable saw in the SawStop lineup. It provides durability, precision, and power...
Read more
The SawStop® Compact Table Saw is the smallest, most portable saw in the SawStop lineup. It provides durability, precision, and power that can be taken to any job site.
10″ BLADE: For maximum cut capacity 
RACK & PINION FENCE: The Rack & Pinion fence is easy to adjust and reliably square, with built-in high and low faces that support all kinds of cuts. 
QUICK-TILT BEVEL WITH MICRO-ADJUSTMENTS: Quickly and easily tilt the blade to your ideal angle with just one hand. The micro-adjust feature provides the ability to dial in a precise cutting angle. 
SAWSTOP'S PATENTED SAFETY SYSTEM: Stops a spinning blade on contact with skin. The blade stops in less than 5 milliseconds, and drops below the table, minimizing a potentially life-altering injury to a mere scratch. 
ON-SAW STORAGE COMPARTMENT: Everything has its place: Stow away tools and accessories in one location for easy access and quick retrieval. 
MOBILE, LIGHTWEIGHT, PORTABLE: Weighing just 68 pounds, the CTS portable table saw has two easy ways to carry it from the truck to the jobsite. Grab it by the handle and carry it like a suitcase, or grab it two-handed at the grips on each side of the table. 
Starting at: $899
Build & Price
SawStop's commitment to quality, innovation, and safety over the past 20+ years has made us the best in the industry. Learn more about what makes a SawStop North America's #1 selling Cabinet Saw
Features
Exclusive-to-SawStop micro-adjust feature allows you to get the most precise cutting angles possible on a job site
Solid Hi-Low Rack & Pinion Fence: Ensures reliably accurate cuts while supporting wide rips up to 24 1/2".
Rigid tube structure and rubber feet provide a durable, stable cutting experience
10" blade for greater depth of cut
On-saw storage compartment so you have all the tools you need close at hand
Compact and portable for easy travel to any job site
SawStop Safety System stops on contact with skin
Standard-width miter slot
Optional folding stand available
Included Items
(1) Miter Gauge
(1) Brake Cartridge (installed)
(1) 4 mm Hex Key
(2) Blade Wrenches
(1) Riving Knife (installed)
(1) Blade Guard with Spreader and Anti-Kickback Pawls
(1) 24-Tooth Ripping Blade (installed)
(1) Push Stick
(1) Standard Lockdown Insert (installed)
Specifications
Motor Configuration120 VAC 60 Hz, Universal

Amperage (A)15A
Blade10" (not compatible with Dado blades)
Max. Depth of Cut at 0°3 1/8" (79.5 mm)

Max. Depth of Cut at 45°2 1/8" (54 mm)
Max. Rip, Right of Blade24 1/2" (648 mm)

Max. Rip, Left of Blade9 1/2" (241 mm)
Overall Footprint14 ¼" H x 23 ½" W x 27" D

Table Surface 23" W X 22 5/8" D

Shipping Dimensions27 W x 31 D x 18 H

Shipping Weight79 lbs

Dust Port2 1/2"
World's Safest Mobile Saw
Compact Table SawTM
Thousands of Fingers Saved
Explore the stories of individuals who suffered tragic incidents before buying a SawStop.
New SawStop Prevents Serious Injury 
John M
(woodworker)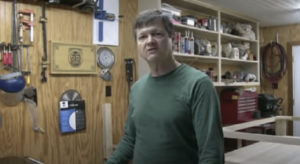 Hobbyist Thanks SawStop for Saving his Finger
Jim M.
(hobbyist)
"The blade stopped immediately."
Anonymous Worker
(woodworker)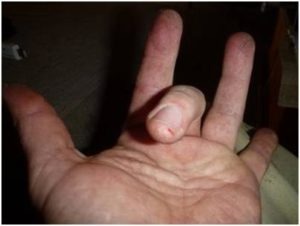 "The finest saw I had owned."
Mick D.
(home-builder)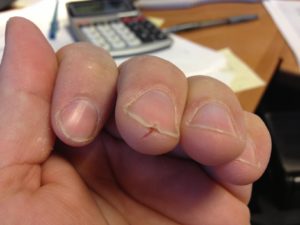 "The best purchase I have ever made."
Mark
(diyer)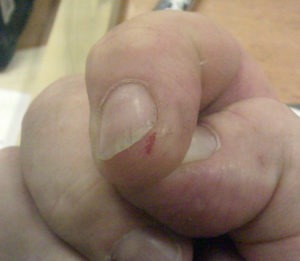 "It can happen to anyone."
Doug J.
(cabinet-maker)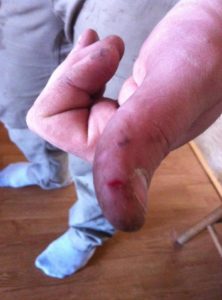 "SawStop saved my finger."
Chris A.
(home-builder)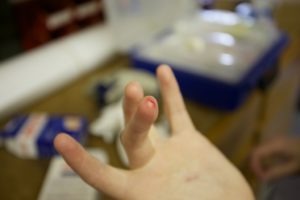 "The blade did exactly what you designed it to do."
Brian G
(diyer)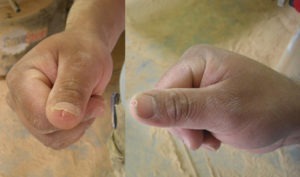 "Just a small nick on his thumb."
Shop Worker
(cabinet-maker)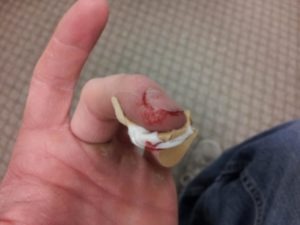 "I only had to put on a band-aid."
Brad W.
(hobbyist)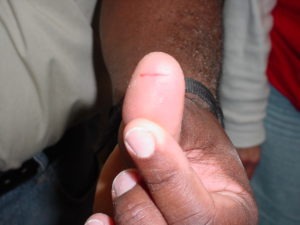 "I didn't even know."
Carl S.
(cabinet-maker)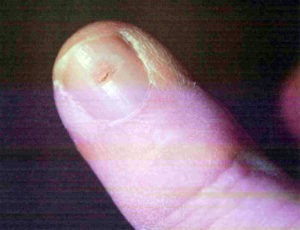 "This technology is revolutionary."
Pete S.
(woodworker)
What Are People Saying?
"SawStop thought of everything."
Trent T.
Maryland
"I bought the SawStop for its safety features."
George A.
Georgia
"I'm a happy camper."
Robert P.
Georgia
"It's a great saw."
Coy F.
Washington
"These saws are the finest operating saws I have used and seen."
James K.
Canada
"An incredibly well made machine."
Robert S.
Alabama
"The saw is well made and functions flawlessly."
Brett A.
Wyoming
"Your company makes beautiful machines."
Paul M.
Minnesota
"This saw screams quality."
Per S.
New Jersey
"Thank you very much for a phenomenal machine."
Robert S.
Alabama
SawStop Owner Testimonials 2
SawStop Owner Testimonials
Why SawStop: From Saw Owners
Why SawStop: From the Experts
Frequently Asked Questions
Can Dado Sets Be Used On the Compact Table Saw?
No. Dado stacks are much heavier than a standard table saw blade. The forces created in the retraction of a dado stack require much larger and heavier drivetrain and structural components than can be accommodated on our lightweight and portable saw body. We recommend our JSS Pro table saw for users that require dado capability in a mobile package.
What are the main differences between the JSS and CTS?
The main differences you will find on our Compact Table Saw (CTS): Lighter weight at 68 lbs. for the saw body vs 84 lbs. on the Jobsite Saw (JSS). Max rip capacity CTS 24 ½" vs JSS 25 ½" The CTS is even more portable with an easy-carry handle, whereas the JSS has a built-in mobile cart. The CTS has a rack and pinion fence vs JSS has T-style with ergo lock (self-squaring) Multi-turn blade elevation on CTS vs JSS has the one-turn elevation Standard blade guard on CTS vs JSS has dust collection blade guard. CTS is a direct drive motor vs JSS having a belt driven motor. The CTS is not able to support the use of Dado blades
What is the HP of the Compact Table Saw?
We have not published the HP of the CTS as a spec because we have found there is a lot of variability in how saws of this class specify their motor power – which can be both misleading and confusing. The CTS has a 15A, direct drive motor that is comparable to other top competitors' saws in this class.
Are the faceplates on the fence replaceable on the CTS and what are they made of?
They are aluminum faceplates, and they are not replaceable
What is the insert made of on the CTS?
The insert for our Compact Table saw is made of glass-filled plastic
Are the inserts for the JSS and CTS interchangeable?
No, the inserts for the Jobsite saw will not fit the Compact Table saw and vice versa.
How can the stand work with an uneven floor?
One of the legs on our Compact Table Saw can be adjusted to accommodate uneven floors.
What type of motor is on the CTS?
Our CTS saw has a direct drive, universal motor
Is the motor for the CTS the same as the JSS?
The motors on the Compact Table Saw and the Jobsite Saw Pro are not the same. The CTS uses a direct drive motor, whereas the JSS has a belt drive motor. There are several advantages to a belt drive motor including noise and vibration suppression.